Corps en mouvement et instruments numériques
Details
Seminar by Benoit Bardy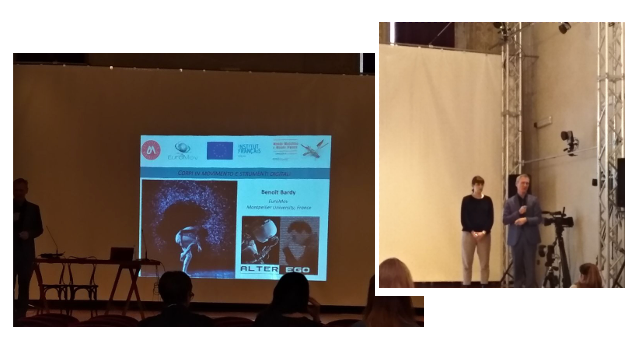 La rencontre traitera des recherches récentes sur le mouvement comme trace de la vie organique du corps, mais aussi comme vecteur des émotions et de la communication.
Les intervenants utiliseront l'informatique, l'ingénierie, les neurosciences, les sciences cognitives et les arts pour montrer ce que nos mouvements disent au sujet de nos interactions sociales et esthétiques, et quelles sont les applications de cette recherche dans le domaine des technologies de la santé et de la rééducation motrice. La rencontre aura lieu dans le cadre des activités du master et du doctorat interdisciplinaire Digital Humanities de l'Université de Gênes, et du cours de master «L'interaction homme-machine» d'Antonio Camurri.
See more at:
https://www.institutfrancais.it/fr/milano/corps-en-mouvement-et-instruments-numeriques
S+T+ARTS TALKS IN GENOVA (2019-11-04)
Combining science, technology and art for a new approach to innovation
Workshop , Casa Paganini - InfoMus, Genova, Piazza di Santa Maria in Passione, 34, h.14:00
(SPECIAL EVENT OF GENOVA SCIENCE FESTIVAL)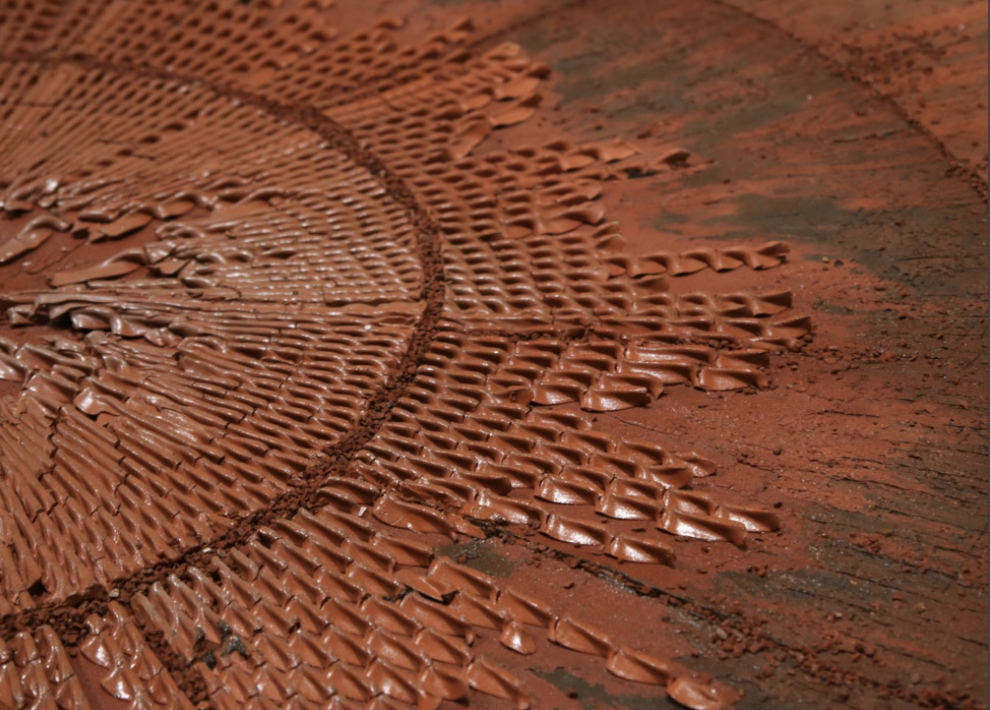 The twentieth century was characterized by an ever stronger presence of technology in contemporary art, technology which, over the course of the last century, increasingly pervaded our culture, lives, and work. The very concept of work of art, of unique artwork, was dramatically changed by the birth of photography, cinema, and the Internet. However, in more recent decades, a parallel process has taken place in the opposite direction: in a world where, because of the digital information revolution, the various disciplines are getting increasingly intertwined and mutually complementary, how can contemporary art and technological innovation stimulate each other and cooperate to promote corporate creativity?
This workshop will be focusing on some research results on the interaction between contemporary art, science and technology. International experiences by research institutes, artists and pathfinder projects carried out within the European S+T+ARTS and FET initiatives under Horizon2020 programme will be presented. The aim is to exchange ideas on how to develop new innovative processes out of the encounter between artists, engineers, and scientists, who normally work independently of each other. This should in turn lead to actual project ideas for both industry and urban spaces .
This half-a-day workshop will feature two different sections: "How Artists Envisage the Human Space" and "Art, Urban and Physics Experiences" .
"The S+T+ARTS initiative merges Science, Technology and the ARTS. It attempts to remove the boundaries between art and engineering to stimulate creativity and innovation."
For more info: please visit the
S+T+ARTS talks in Genova
workshop's webpage
A Tempo! (2019-09-23)
23 September 2019, Casa Paganini
In occasion of the H2020 EU FET Future Tech Week, the EU FET PROACTIVE EnTimeMent project presents its activites and objectives to industry and institutions:
For more info: please visit the
A Tempo!
workshop's webpage
MoCap Sessions (2019-08-20/22)
Details
MoCap recording sessions with choreographer Cora Gasparotti and sound-designer Andrea Cera.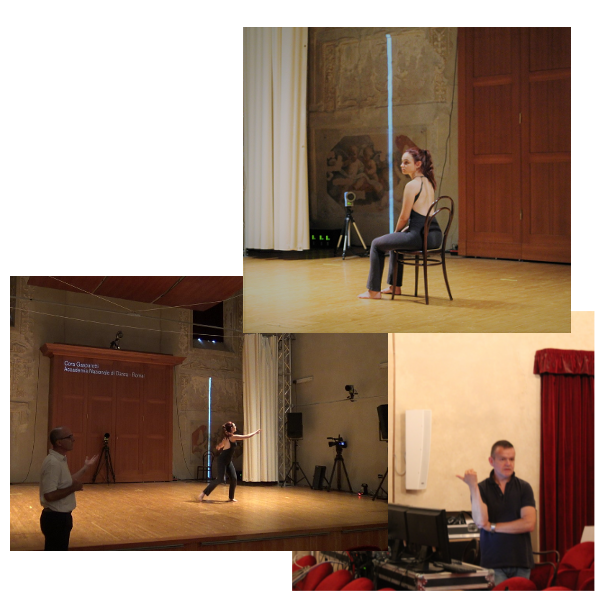 Recordings data: Cora Gasparotti.
MoCap Sessions (2019-08-07/08)
Details
MoCap recording sessions with performers: Cora Gasparotti, Carola Bossert and Erica Bossert..